This article concerns content exclusive to the original Warcraft III: Reign of Chaos game release.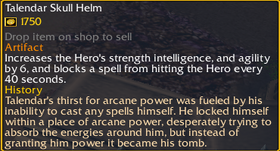 Talendar's thirst for arcane power was fueled by his inability to cast any spells himself. He locked himself within a place of arcane power, desperately trying to absorb the energies around him, but instead of granting him power it became his tomb.
Ad blocker interference detected!
Wikia is a free-to-use site that makes money from advertising. We have a modified experience for viewers using ad blockers

Wikia is not accessible if you've made further modifications. Remove the custom ad blocker rule(s) and the page will load as expected.