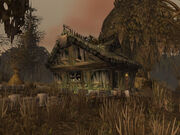 Tabetha's Farm (aka Tabetha's hut)[45, 57] is a small hut with a garden located in the murkiest part of the Quagmire in Dustwallow Marsh. Tabetha herself is present in the building along with her two apprentices Garion and Morlann.
She also has a dock to host those who navigate the waters of the swamp by riverboat. Andello Porter of SI:7 can be found here.
To the farm:
At the farm:
From the farm:
See also: Dustwallow Marsh quests 
Ad blocker interference detected!
Wikia is a free-to-use site that makes money from advertising. We have a modified experience for viewers using ad blockers

Wikia is not accessible if you've made further modifications. Remove the custom ad blocker rule(s) and the page will load as expected.