Ad blocker interference detected!
Wikia is a free-to-use site that makes money from advertising. We have a modified experience for viewers using ad blockers

Wikia is not accessible if you've made further modifications. Remove the custom ad blocker rule(s) and the page will load as expected.

Tabard of the Ebon Blade

Item Level

174

Requires Knights of the Ebon Blade - Friendly
Equip: You champion the cause of the Knights of the Ebon Blade. All reputation gains while in level 80 dungeons will be applied to your standing with them.
Sell Price: 25
Vendor 1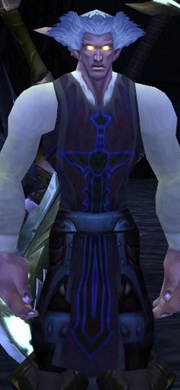 This item is a reputation reward; you must be friendly with Knights of the Ebon Blade to buy it from Duchess Mynx <Ebon Blade Quartermaster> in the Shadow Vault for 1

.
External links
Edit