Aegis of the Blood God #247
Edit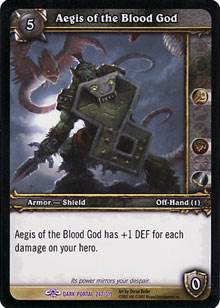 Set: Dark Portal
Type: Armor - Shield
Slot: Off-Hand
Rarity: Epic
Cost: 5
DEF: 0
Used By:




Artist: Daren Bader

Text: Aegis of the Blood God has +1 DEF for each damage on your hero.
Flavor: Its power mirrors your despair.

Card: #247

Source: TCGPlayer.com
Ad blocker interference detected!
Wikia is a free-to-use site that makes money from advertising. We have a modified experience for viewers using ad blockers

Wikia is not accessible if you've made further modifications. Remove the custom ad blocker rule(s) and the page will load as expected.