Highlord Bolvar Fordragon
Edit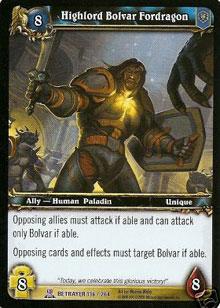 Type: Ally
Faction: Alliance
Race: Human
Class: Paladin
Rarity: Epic
Artist: Warren Mahy
Cost: 8
ATK: 8
Health: 8
Main text: Opposing allies must attack if able and can attack only Bolvar if able.
Opposing cards and effects must target Bolvar if able.
Flavor text: "Today, we celebrate this glorious victory!"
Source: TCGPlayer.com
Ad blocker interference detected!
Wikia is a free-to-use site that makes money from advertising. We have a modified experience for viewers using ad blockers

Wikia is not accessible if you've made further modifications. Remove the custom ad blocker rule(s) and the page will load as expected.