Ad blocker interference detected!
Wikia is a free-to-use site that makes money from advertising. We have a modified experience for viewers using ad blockers

Wikia is not accessible if you've made further modifications. Remove the custom ad blocker rule(s) and the page will load as expected.
| | |
| --- | --- |
| | It is requested that a screenshot or screenshots be included in this article to improve its quality. |

Swift Windsteed

Item Level

20

Binds when picked up


(Account-wide)

Requires level 20
Requires Apprentice Riding
Use: Teaches you how to summon this mount. The capabilities of this mount depend on your Riding skill and location.
Charging from the heavens like a bolt from the blue, the Swift Windsteed gallops high over the battlefield, carrying you to the time and place of your next victory. Airborne cavalry, mount up![1]
The Swift Windsteed is a flying mount purchasable from the Blizzard Store for $25 US or €20 (£17) as a redeemable digital download.
Swift Windsteed Mount
Courtesy of MMO Champion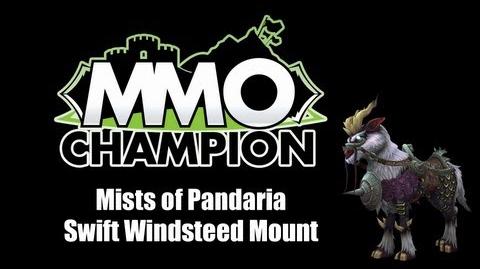 Patch changes
Edit
References
Edit
External links
Edit
Blizzard Store

Blizzard Store (US)
World of Warcraft® Mount: Swift Windsteed
$25
Blizzard Store (EU)
World of Warcraft® Mount: Swift Windsteed
€20 or £17
Item
Summoning spell
NPC
News
WoW Official Game Site (US)
Swift Windsteed – Exclusive Mount Now Available
by Blizzard Entertainment, Jan 8, 2013 10:31 AM PST
WoW Official Game Site (US)
Swift Windsteed – Exclusive Mount Now Available
by Blizzard Entertainment, 08 Jan 2013 18:30 GMT

MMO-Champion
Blizzard Store: Swift Windsteed Mount Now Available
by chaud 2013-01-08 06:51 PM