The subject of this article was either removed from World of Warcraft or is no longer available due to the devastating Cataclysm patch 4.0.3.

The in-game information in this article is kept purely for historical purposes and may not need to remain under any other categories.

Swift Razzashi Raptor

Item Level

40

Requires level 40
Requires Riding (150)
Use: Teaches you how to summon Bloodlord Mandokir's raptor. This is a very fast mount.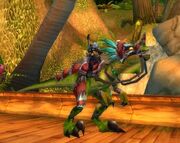 The Swift Razzashi Raptor is a rare drop from the boss Bloodlord Mandokir in Zul'Gurub. This epic mount is extremely sought after for its rarity. This mount will drop for either faction with a drop percentage of 1% and any race can ride it, provided they have 150 riding skill.
As of the Isle of Thunder and Isle of Giants patch, this raptor is not the only one aquireable for alliance players. Members of both races can aquire three new raptors with unique textures.
Obtaining this mount awards the Feat of Strength,  

Swift Razzashi Raptor (achievement)

.
Patches and hotfixes
Edit
References
Edit
External links
Edit