Swift Horde Wolf

Item Level

40

Races: Orc, Undead, Tauren, Troll, Blood Elf
Requires level 40
Requires Riding (150)
Use: Teaches you how to summon this mount. This is a very fast mount.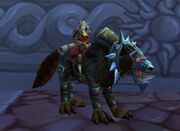 For the Alliance equivalent, see Swift Alliance Steed.
For the Horde 25 man raid equivalent, see Crusader's Black Warhorse.
The Swift Horde Wolf is a 100% drop from the Argent Crusade Tribute Chest, found after a Horde raid completes the 10 man Trial of the Grand Crusader.
Patch changes
Edit
Patch 3.3.0

(08-Dec-2009): The mount learned from this item no longer triggers a global cooldown.


Patch 3.2.0

(04-Aug-2009): Added

External links
Edit