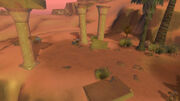 The Surveryors' Outpost[73.3, 64.1] is the former outpost of a gnomish expeditionary group that delved into Uldum to discover ancient artifacts, against the warnings put forth by the Ramkahen. Now all the group has been driven insane by an ancient curse, and the only thing left at their abandoned camp is an artificial intelligence.
Inhabitants
Edit
Patch changes
Edit
External links
Edit
Ad blocker interference detected!
Wikia is a free-to-use site that makes money from advertising. We have a modified experience for viewers using ad blockers

Wikia is not accessible if you've made further modifications. Remove the custom ad blocker rule(s) and the page will load as expected.