For the general definition, see Surge needle.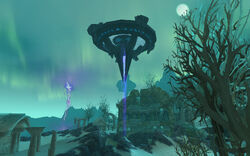 The Surge Needle is both a surge needle and a subzone that can be found hovering over Moonrest Gardens in Dragonblight. Surge Needle Sorcerers can be found on the platform and on the ground below helping to focus the needles power. It's from this energy Arcanimus is born.
A projection of the Arcanomicon can be found on top.
Ad blocker interference detected!
Wikia is a free-to-use site that makes money from advertising. We have a modified experience for viewers using ad blockers

Wikia is not accessible if you've made further modifications. Remove the custom ad blocker rule(s) and the page will load as expected.