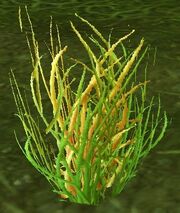 Sungrass is a Herb that can be gathered by Herbalists. 230 Herbalism is required to gather this herb.
Sungrass can be found most frequently in The Hinterlands, Feralas and Azshara. It has also been seen in Eastern Plaguelands, Un'Goro Crater, Felwood and Blasted Lands. Sungrass is most commonly found in open areas.
Sungrass as an Ingredient
Edit
Sungrass is used in the following recipes:
Sungrass is used by Blood Elf Paladins who want to complete their level 60 Epic Riding quest.
External links
Edit

Sungrass Farming - OmgNab.com
Herbalism herbs
Seeds
Apprentice
Journeyman
Expert
Artisan
Master
Grand Master
Illustrious Grand Master
Zen Master
Draenor Master
Fel? Master
† Added with
Ad blocker interference detected!
Wikia is a free-to-use site that makes money from advertising. We have a modified experience for viewers using ad blockers

Wikia is not accessible if you've made further modifications. Remove the custom ad blocker rule(s) and the page will load as expected.