Sunblade Keeper

Race
Blood elf (Humanoid)
Location
Magisters' Terrace, Isle of Quel'Danas
Status
Killable
See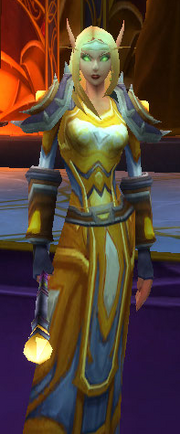 Sunblade Keepers are elite blood elves located in the Magisters' Terrace of the Isle of Quel'Danas. A single patrol that sometimes spawns with the Wyrms. Will detonate a mana cell, causing the Wyrm groups to go into a feeding frenzy and temporarily act as a single, large group.
Patches and hotfixes
Edit
0200

Patch 2.4.0 (25-Mar-2008): Added

External links
Edit
Ad blocker interference detected!
Wikia is a free-to-use site that makes money from advertising. We have a modified experience for viewers using ad blockers

Wikia is not accessible if you've made further modifications. Remove the custom ad blocker rule(s) and the page will load as expected.