This article is about the Alliance mount. For the Horde mount, see Summon Thalassian Warhorse.
Summon Warhorse is a paladin ability learned at level 20 for dwarves and humans. It also grants Apprentice Riding (75). Like all ground mounts, the warhorse scales with riding level.
Modified by
Edit
Core abilities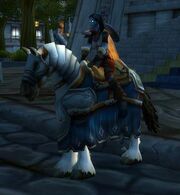 The Warhorse wears a blue and silver standard.
Summon Warhorse cannot be dispelled, but it can be Counterspelled, locking out the Holy school temporarily.
In previous patches, a small quest called

Tome of Nobility

was required to obtain the Warhorse.
Patch changes
Edit
External links
Edit