Summon Thalassian Warhorse is a paladin ability learned at level 20 for blood elves. It also grants Apprentice Riding (75). Like all ground mounts, the warhorse scales with riding level.
The warhorse wears a red and gold standard.
Modified by
Edit
Core abilities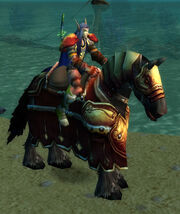 Patch changes
Edit
External links
Edit
Ad blocker interference detected!
Wikia is a free-to-use site that makes money from advertising. We have a modified experience for viewers using ad blockers

Wikia is not accessible if you've made further modifications. Remove the custom ad blocker rule(s) and the page will load as expected.