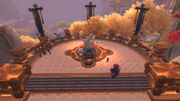 The Summer Terrace can be found at the Alliance-controlled Shrine of Seven Stars[86, 63] in the Vale of Eternal Blossoms. The upper balcony connects to the interior of the shrine and has upon it various merchants, as well as the flight master, stable master, and flying and pet battle trainers.
The lower section does not connect to the interior of the shrine, sitting below the balcony portion. Within this sheltered area can be found quest givers related to nearly all the Pandaria-related factions, as well as a few quartermasters.
Inhabitants
Edit
Lower section
Edit
Quest givers/enders
Merchants
NPCs
Upper section
Edit
Merchants
Services
Trainers
NPCs
Patch changes
Edit
Ad blocker interference detected!
Wikia is a free-to-use site that makes money from advertising. We have a modified experience for viewers using ad blockers

Wikia is not accessible if you've made further modifications. Remove the custom ad blocker rule(s) and the page will load as expected.