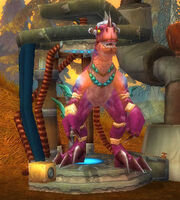 Subject Nine is an experimental raptor created by Hobart Grapplehammer. She is first encountered at the KTC Headquarters[56.8, 76.9] in Kezan as a mere infant, but then becomes a full-grown raptor and quest giver at the Secret Lab[42.2, 76] in Azshara.
Azshara
 [14] 

Nine's Plan

 [14] 

Raptor Raptor Rocket

 [13] 

My Favorite Subject
Subject Nine, when spoken to, appears to be rather eloquent.
Subject Nine and Subject Four apparently mated, but Nine holds no affection for him.
Subject Nine is not able to be tamed.
Patch changes
Edit
External links
Edit
Ad blocker interference detected!
Wikia is a free-to-use site that makes money from advertising. We have a modified experience for viewers using ad blockers

Wikia is not accessible if you've made further modifications. Remove the custom ad blocker rule(s) and the page will load as expected.