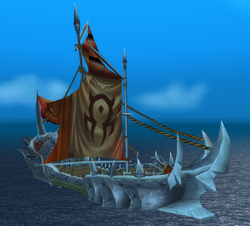 The Stygian Bounty[49.7, 66.2] is a Horde ship floating on the surface above the Shimmering Expanse. It is one of three Horde ships in the area searching for survivors of the ships that are wrecked at the start of the Vashj'ir storyline, the others being Galerek's Remorse and The Iron Reaper.
It should be noted that the major NPCs, including those that provide a service, are not unlocked until after players accept A Breath of Fresh Air.
Transportation
Edit
Patch changes
Edit
External links
Edit
Ad blocker interference detected!
Wikia is a free-to-use site that makes money from advertising. We have a modified experience for viewers using ad blockers

Wikia is not accessible if you've made further modifications. Remove the custom ad blocker rule(s) and the page will load as expected.