Stormpike Battle Standard

Use: Place a Battle Standard with 1500 health that increases the damage of all party members that stay within 45 yards of the Battle Standard by 10%. Lasts 2 min. May only be used in Alterac Valley.
Vendor 15,000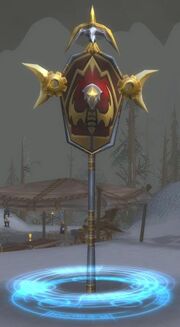 The Stormpike Battle Standard is a flag on a pole which is carried by Alliance forces in Alterac Valley. Players can buy the standard at two vendors.
This item is a PvP reward, and can be purchased for 15,000

from:
Patch changes
Edit
External links
Edit
Ad blocker interference detected!
Wikia is a free-to-use site that makes money from advertising. We have a modified experience for viewers using ad blockers

Wikia is not accessible if you've made further modifications. Remove the custom ad blocker rule(s) and the page will load as expected.