Stolen Firework Bundle

"Use with caution."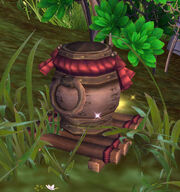 This item is needed for the quest Monkey Advisory Warning, given by Ji Firepaw at Morning Breeze Village on the Wandering Isle.
Though they can be picked up in Fe-Feng Village, the majority of them can be gathered right beside Ruk-Ruk[21.2, 34.2].
Patch changes
Edit
External links
Edit
Ad blocker interference detected!
Wikia is a free-to-use site that makes money from advertising. We have a modified experience for viewers using ad blockers

Wikia is not accessible if you've made further modifications. Remove the custom ad blocker rule(s) and the page will load as expected.