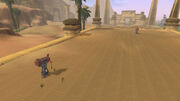 The Steps of Fate[77.2, 51.6] lead from the Cursed Landing in Uldum up to the pyramid that houses the Halls of Origination. The crazed gnomes from the Landing have erected a few rockets and pointed them at the pyramid for unknown purposes, while Neferset looters wander the sections further from the shore.
Inhabitants
Edit
Patch changes
Edit
External links
Edit
Ad blocker interference detected!
Wikia is a free-to-use site that makes money from advertising. We have a modified experience for viewers using ad blockers

Wikia is not accessible if you've made further modifications. Remove the custom ad blocker rule(s) and the page will load as expected.