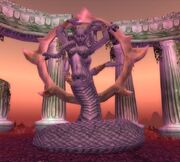 The Statue of Queen Azshara is located on top of Bloodcurse Isle of Bloodmyst Isle. [85.9, 54.2] When burned it summons Atoph the Bloodcursed during the quest

 [19] Ending the Bloodcurse.

There is also a statue of Queen Azshara in the Tomb of Sargeras, it looks more like a night elf but it has a tail.[1] During the events of Warcraft III: The Frozen Throne it was found by Maiev.[2]
External links
Edit
Reference list
Edit
Ad blocker interference detected!
Wikia is a free-to-use site that makes money from advertising. We have a modified experience for viewers using ad blockers

Wikia is not accessible if you've made further modifications. Remove the custom ad blocker rule(s) and the page will load as expected.