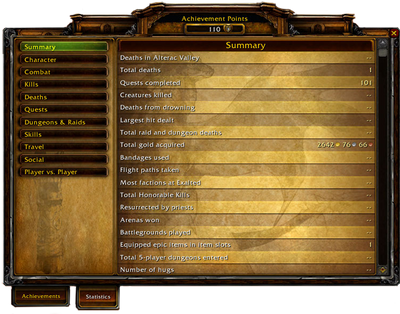 The Statistics panel is accessible via a bottom tab from the Achievements panel. It shows lists of additional statistical related achievements.
How does one reset the statistics?
Ans:You Can't.
The following lists of statistical achievements are listed based on buttons selected on the left sub-panel of the panel:
Summary
Character
Combat
Kills
Deaths
Quests
Dungeons & Raids
Skills
Travel
Social
Player vs. Player
Sub-panels
Edit
...
Character
Edit
Talent tree respecs
Badges of Justice acquired
Emblems of Heroism acquired
Emblems of Valor acquired
Emblems of Conquest acquired
Emblems of Triumph acquired
Emblems of Frost acquired
Wealth
Total gold acquired
Average gold earned per day
Gold looted
Gold from quest rewards
Gold earned from auctions
Auctions posted
Auction purchases
Most expensive bid on auction
Most expensive auction sold
Gold from vendors
Gold spent on travel
Gold spent at barber shops
Gold spent on postage
Gold spent on talent tree respecs
Most gold ever owned
Consumables
Bandages used
Bandage used most
Differend bandage types used
Health potions consumed
Health potion used most
Different health potions used
Mana potions consumed
Mana potion used most
Different mana potions used
Elixirs consumed
Elixir consumed most
Different elixirs used
Flasks consumed
Flask consumed most
Different flasks consumed
Beverages consumed
Beverage consumed most
Different beverages consumed
Food eaten
Different foods eaten
Food eaten most
Healthstones used
Reputation
Most factions at Exalted
Most factions at Revered or higher
Most factions at Honored or higher
Most Northrend factions at Exalted
Most Outland factions at Exalted
Most Horde factions at Exalted
Total factions encountered
Gear
Equipped epic items in item slots
Epic items acquired
Epic items looted
Legendary items acquired
Mounts owned
Vanity pets owned
Extra bank slots purchased
Greed rolls made on loot
Need rolls made on loot
Disenchant rolls made on loot
...
Total kills
Total kills that grant experience or honor
Creatures
...
Honorable Kills
...
Killing Blows
...
Arenas
...
Battlegrounds
...
Dungeons
...
World
...
Resurrection
...
Dungeons & Raids
Edit
...
Classic
...
The Burning Crusade
...
Wrath of the Lich King
...
Secrets of Ulduar
...
Call of the Crusade
...
Fall of the Lich King
...
...
Secondary Skills
...
Professions
...
...
...
Player vs. Player
Edit
Total deaths from other players
Total deaths from opposite faction
Rated Arenas
...
Battlegrounds
...
World
...