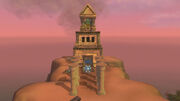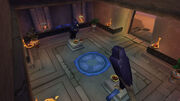 Starwatch Tower[73.4, 73.3] sits on a high bluff in Uldum, north of the Vortex Pinnacle, east of the Lost City of the Tol'vir, and far to the south of the Halls of Origination. Twizzleflux the Insane has taken it over. He was one of the leaders of the gnome expedition that cracked open the tombs of Uldum, only to go insane.
Inhabitants
Edit
The tower's name only appears in the quest text of Core Access Codes.
Patch changes
Edit
Ad blocker interference detected!
Wikia is a free-to-use site that makes money from advertising. We have a modified experience for viewers using ad blockers

Wikia is not accessible if you've made further modifications. Remove the custom ad blocker rule(s) and the page will load as expected.