Sprouted Frond

Item Level

15

Requires level 5
Use: Heal your target for 71 to 85.
1 Charges
Sell Price: 31
This item is a quest reward from

 [10] The Sprouted Frondsω τ ϖ.
As an object
Edit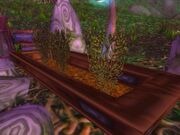 The Sprouted Fronds appear in Denalan's Planter in Teldrassil, [60.8, 68.5] after completing the quest Planting the Heart.
 [10] 

The Sprouted Fronds
External links
Edit
Ad blocker interference detected!
Wikia is a free-to-use site that makes money from advertising. We have a modified experience for viewers using ad blockers

Wikia is not accessible if you've made further modifications. Remove the custom ad blocker rule(s) and the page will load as expected.