Splithoof Crag is the name for a village of the Galak centaur tribe located against the northern wall of Thousand Needles [41, 39], just east of Darkcloud Pinnacle.
Along the mountain side, in the center of the village, is a cavern known as Splithoof Hold. This is where the Cloven Hoof, an ancient artifact, is heavily guarded.
In Cataclysm
Edit

This section concerns content exclusive to Cataclysm.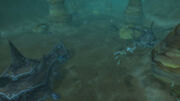 Splithoof Crag is flooded and abandoned during the Cataclysm. The centaur have formed a new encampment much further southeast and above the flooding called Splithoof Heights.