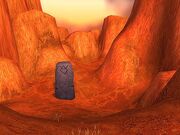 Spirit Rock is a place sacred to the shamans of the Horde. It is located in the hills high above the Valley of Trials in Durotar, and is accessible from the Hidden Path leading up to it.
The Shaman quest item
 [Earth Sapta] is usable here near the shrine.
Ad blocker interference detected!
Wikia is a free-to-use site that makes money from advertising. We have a modified experience for viewers using ad blockers

Wikia is not accessible if you've made further modifications. Remove the custom ad blocker rule(s) and the page will load as expected.