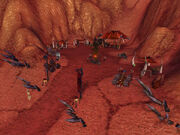 Spinebreaker Post is a small Horde outpost in southern Hellfire Peninsula to the east of the Expedition Armory and southwest of Zeth'Gor. It contains loads of quests and also has a Flight Path.
For quick and easy first access, talk to Wing Commander Brack at Reaver's Fall.
Travel Connections
Edit
Inhabitants
Edit
Merchants:
Guards:
Ad blocker interference detected!
Wikia is a free-to-use site that makes money from advertising. We have a modified experience for viewers using ad blockers

Wikia is not accessible if you've made further modifications. Remove the custom ad blocker rule(s) and the page will load as expected.