Spinal Reaper

Item Level

76

Speed 3.40
203 - 305 Damage
(74.7 damage per second)
Durability 120 / 120
Requires level 60
Equip: Restores 150 mana or 20 rage when you kill a target that gives experience; this effect cannot occur more than once every 10 seconds.
Equip: Increases attack power by 34.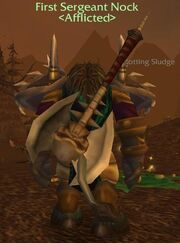 As this returns mana (or rage) when you kill a target, is is mostly of use to characters in a damage dealing role than those in healing or tanking roles.
This item drops from Ragnaros in Molten Core.
External links
Edit
Ad blocker interference detected!
Wikia is a free-to-use site that makes money from advertising. We have a modified experience for viewers using ad blockers

Wikia is not accessible if you've made further modifications. Remove the custom ad blocker rule(s) and the page will load as expected.