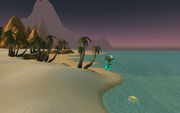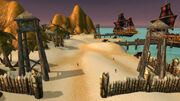 Southbreak Shore in Tanaris is an expanse of flat beach to the south of Lost Rigger Cove. [64, 59] It is quiet and almost deserted apart from the hostile turtles and sea giants roaming the surf.
Just off the coast lies a small island with a lone gnome named Winkey. She offers no reason to visit her.
In Cataclysm
Edit

This section concerns content exclusive to Cataclysm.
After the Cataclysm the Southsea Pirates have taken over the northern part of Southbreak Shore to expand their fortifications in Lost Rigger Cove.
Ad blocker interference detected!
Wikia is a free-to-use site that makes money from advertising. We have a modified experience for viewers using ad blockers

Wikia is not accessible if you've made further modifications. Remove the custom ad blocker rule(s) and the page will load as expected.