Soul of the Aspects

Item Level

20

Use: Teaches you to summon this companion.
Blizzard Store description
Edit
As your newest faithful companion pet, the Soul of the Aspects flies by your side through the skies of Azeroth, celebrating your adventures together with aerial summersaults and twisting corkscrews.
Once activated, this in-game pet key applies to all present and future World of Warcraft characters on a single North American Battle.net account.
Soul of the Aspects
Edit
This item lets you summon a dragon made from the combination of all of the Dragon Aspects. This Companion does corkscrews and somersaults whilst it is stationary.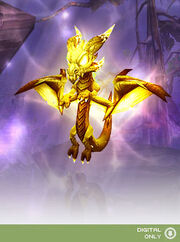 Battle.net and Wowhead show this item as Bind on Pickup, but the Blizzard Store says this companion will be available to all characters on the account that purchases it.
Patch changes
Edit
External links
Edit
Summoning spell
Blizzard Store

Blizzard Store (US)
World of Warcraft® Pet: Soul of the Aspects
Blizzard Store (EU)
World of Warcraft® Pet: Soul of the Aspects
News
WoW Official Game Site (US)
Soul of the Aspects -- Pet Store Exclusive
by Blizzard Entertainment, Apr 10, 2012 10:00 AM PDT

WoW Official Game Site (EU)
Soul of the Aspects — Pet Store Exclusive
by Blizzard Entertainment, 10 Apr 2012 18:09 UTC
WoW Insider
Soul of the Aspects pet added to the Blizzard Store
by Alex Ziebart Apr 10th 2012 at 1:40PM

MMO-Champion
Soul of the Aspects Companion Pet now on Blizzard Store
by Boubouille 2012-04-10 05:49 PM