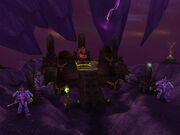 Socrethar's Seat [31, 16] is the throne of the eredar Socrethar, and his demonic minions. The seat occupies an entire floating island, the far northwestern of the larger ones in Netherstorm. It can either be accessed via a Flying Mount or a quest portal generator which is obtained during either

 [67G-5] Deathblow to the Legion (Aldor Quest version) or

 [67G-5] Turning Pointω τ ϖ (Scryer Quest version). Socrethar's Seat is known for a location to farm Mark of Sargeras.
Ad blocker interference detected!
Wikia is a free-to-use site that makes money from advertising. We have a modified experience for viewers using ad blockers

Wikia is not accessible if you've made further modifications. Remove the custom ad blocker rule(s) and the page will load as expected.