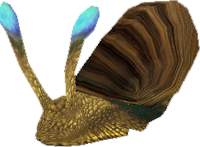 Snails are small creatures that have previously only been referenced in the World of Warcraft by use of empty shells found off mobs or by fishing. Though they have been seen as part of the landscape in some underwater areas, they will make their first actual appearance as an attackable critter in Cataclysm.
There is also a non-combat pet snail is available as a guild reward.
Ad blocker interference detected!
Wikia is a free-to-use site that makes money from advertising. We have a modified experience for viewers using ad blockers

Wikia is not accessible if you've made further modifications. Remove the custom ad blocker rule(s) and the page will load as expected.