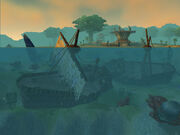 Smotts' Revenge was a ship belonging to Captain Hecklebury Smotts, a privateer who now runs his operations from Booty Bay. Both his first ship, as well as his second ship, aptly named Smotts' Revenge, were destroyed by a trio of sea giants — Mok'rash, Gorlash, and Negolash.
Smotts' Revenge is most likely the ship on the right as it is loaded with cannons and ready for battle.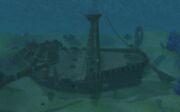 Ad blocker interference detected!
Wikia is a free-to-use site that makes money from advertising. We have a modified experience for viewers using ad blockers

Wikia is not accessible if you've made further modifications. Remove the custom ad blocker rule(s) and the page will load as expected.