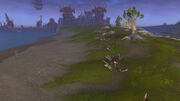 The Slithering Cove[70.3, 43.5] is a stretch of shoreline that runs north of Dragonmaw Port in the Twilight Highlands. Here is where the Dragonmaw are fighting against waves of naga that are seeking to swarm upriver in order to reinforce the Bastion of Twilight. This is also where munitions from the Spear of Durotar landed when the Horde flagship broke up midair after being attacked by the twilight dragonflight.
Inhabitants
Edit
NPCs
Mobs
Patch changes
Edit
External links
Edit
Ad blocker interference detected!
Wikia is a free-to-use site that makes money from advertising. We have a modified experience for viewers using ad blockers

Wikia is not accessible if you've made further modifications. Remove the custom ad blocker rule(s) and the page will load as expected.