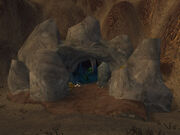 Slither Rock is a small cave found in the far northeastern corner of the Burning Steppes. It is inhabited by a sole creature - the black dragonspawn Cyrus Therepentous. Hidden beyond the Terror Wing Path, Cyrus will nevertheless aid adventurers in vanquishing a common foe, albeit not without an ample supply of rude and derisive comments.
Ad blocker interference detected!
Wikia is a free-to-use site that makes money from advertising. We have a modified experience for viewers using ad blockers

Wikia is not accessible if you've made further modifications. Remove the custom ad blocker rule(s) and the page will load as expected.