Slick Mudfish

"Surprisingly well-preserved, but still pretty gross."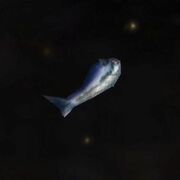 This item is needed for the quest Materia Medica, given by Ken-Ken at Zhu's Watch in the Krasarang Wilds.
These fish can be found in either of two dried pools that also contain Weeping Horrors, roughly south[75.5, 10.8] and southwest[71.3, 11.4] of Zhu's Watch.
Patch changes
Edit
External links
Edit
Ad blocker interference detected!
Wikia is a free-to-use site that makes money from advertising. We have a modified experience for viewers using ad blockers

Wikia is not accessible if you've made further modifications. Remove the custom ad blocker rule(s) and the page will load as expected.