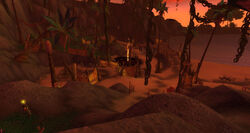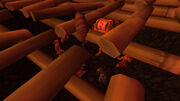 The Slave Pits[42.2, 25.9] is a mercenary camp located southwest of Gallywix Docks on the Lost Isles. It is full of Southsea Mercenaries. The goblin Candy Cane is overseeing the area in Trade Prince Gallywix's name. It seems Candy and her allies have captured all of the class and profession trainers and imprisoned them in a pit! Hobart and Geargrinder are working on the ultimate footbomb uniform to take down Gallywix.
Inhabitants
Edit
Quest givers
NPCs (outside camp)
NPCs (inside)
Mobs
All of the class and profession trainers encountered at previous locations can be found in the pit in front of Candy Cane. They are all functional as well. Players can fall into the pit, but careful jumping within its northwest corner will allow exit.
Patch changes
Edit
External links
Edit
Ad blocker interference detected!
Wikia is a free-to-use site that makes money from advertising. We have a modified experience for viewers using ad blockers

Wikia is not accessible if you've made further modifications. Remove the custom ad blocker rule(s) and the page will load as expected.