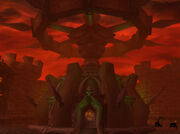 The Slaughter House is a bastion of the Scourge located in the deepest part of Stratholme, in Slaughter Square. The terrifying structure is home to the malevolent deathknight Baron Rivendare, and his hostage Ysida Harmon. Reaching the Slaughter House in 45 minutes from entering the Gauntlet will allow the players the chance to save Ysida from execution.
Ad blocker interference detected!
Wikia is a free-to-use site that makes money from advertising. We have a modified experience for viewers using ad blockers

Wikia is not accessible if you've made further modifications. Remove the custom ad blocker rule(s) and the page will load as expected.