This is part of the Skyshatter Raiment set, the raid Tier 6 armor set for restoration Shamans.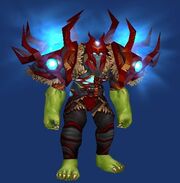 This item is purchased from Tydormu <Keeper of Lost Artifacts> in Hyjal Summit in exchange for [Helm of the Forgotten Protector].
Patch changes
Edit

Patch 2.4.2 (2008-05-13): The item's gem socket bonus will now properly reflect the plus damage in the tooltip.

External links
Edit