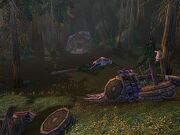 The ominous sounding
Skittering Dark
[37, 18]
is the name for an abandoned mine and the surrounding forest in northwest
Silverpine Forest
. It is so named for the numerous spiders which inhabit the mine and its entrance. Among the spiders of the mine is one particularly nasty matriarch called
Krethis Shadowspinner
.
The spiders of the Skittering Dark are valued for their Skittering Blood, which the Forsaken Apothecaries seek for their concoctions. Studies have proven that the blood, combined with a grizzled bear heart, forms a deadly elixir, possibly trying to create a new plague.
This subzone can be discovered at 35, 19 for the Explore Silverpine Forest achievement.
Ad blocker interference detected!
Wikia is a free-to-use site that makes money from advertising. We have a modified experience for viewers using ad blockers

Wikia is not accessible if you've made further modifications. Remove the custom ad blocker rule(s) and the page will load as expected.