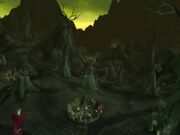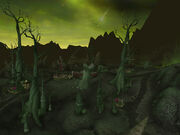 The Sketh'lon Base Camp is located southeast of the Wildhammer Stronghold in southwestern Shadowmoon Valley. It is filled with the roaming ghosts of the arakkoan members of the Dark Conclave who used to live here.
Ad blocker interference detected!
Wikia is a free-to-use site that makes money from advertising. We have a modified experience for viewers using ad blockers

Wikia is not accessible if you've made further modifications. Remove the custom ad blocker rule(s) and the page will load as expected.