Singing Pools
103,853pages on
this wiki
Talk

0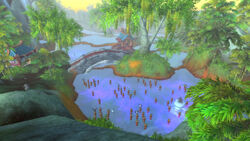 The Singing Pools[70.5, 42.5] is one of the areas that pandaren train on the Wandering Isle. It is located due east of the Temple of Five Dawns. There are a number of unique pools within the area, the magic contained within them transforming the unknowing into small animals as soon as they touch the waters. Pandaren train within other pools, learning balance and fighting skills while atop balance poles.
Contained within this area is also Liang's Retreat and the Pool of Reflection. The latter is the home of the ancestral spirit of water, Shu.
Inhabitants
Edit
Quest givers
Vendors
NPCs
Mobs
Not all the pools transform players; only the pools that have signs on their perimeters. Below are the associated buffs. It should be noted that the cranes in the area become hostile to transformed players who have been transformed in the turtle and frog pools.
"Skunk Pool" [65.6, 42.5]
"Turtle Pool" [69.1, 52.9]
"Frog Pool" [61.5, 47.9]
"Crane Pool" [79.5, 50]
"Crocodile Pool" [73.9, 53.9]
Quest notes Edit
Patch changes
Edit