This is a list of all quests starting in Silvermoon City.
The Bazaar
Edit
Just off the west side of the Bazaar is Sathren Azuredawn's shop
 [10] 

Skymistress Gloaming

. This follows on from  [10] 

Fly to Silvermoon City

.
Farstriders' Square
Edit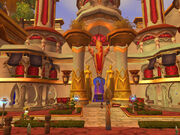 North of Farstride Square are the Hunter Trainers, Tana, Oninath and Zandine.

East of Farstrider Square is where the Blood Knights gather.
Murder Row
Edit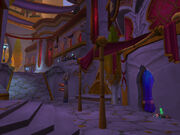 [10]

Find Keltus Darkleaf

[16]

A Discreet Inquiry
The Sanctum
Edit
Sunfury Spire
Edit
 [21] 

Envoy to the Horde

. This continues on from  [21] 

Hero of the Sin'dorei

or  [21] 

Friend of the Sin'dorei

.
Ad blocker interference detected!
Wikia is a free-to-use site that makes money from advertising. We have a modified experience for viewers using ad blockers

Wikia is not accessible if you've made further modifications. Remove the custom ad blocker rule(s) and the page will load as expected.