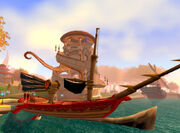 The Silvermoon's Pride is a blood elf destroyer moored to the docks at the Sun's Reach Harbor, Isle of Quel'Danas.
It belongs to the Dawnblade, until the harbor is taken over by the player population assisting the Shattered Sun Offensive. The ship itself is not yet seaworthy.

Captain Valindria
Patches and hotfixes
Edit

Patch 2.4.0 (25-Mar-2008): Added

Ad blocker interference detected!
Wikia is a free-to-use site that makes money from advertising. We have a modified experience for viewers using ad blockers

Wikia is not accessible if you've made further modifications. Remove the custom ad blocker rule(s) and the page will load as expected.