Ad blocker interference detected!
Wikia is a free-to-use site that makes money from advertising. We have a modified experience for viewers using ad blockers

Wikia is not accessible if you've made further modifications. Remove the custom ad blocker rule(s) and the page will load as expected.
| | |
| --- | --- |
| | It is requested that a screenshot or screenshots be included in this article to improve its quality. |
The Silvershard Mines is a new battleground introduced with 0500

Mists of Pandaria that occurs in a goblin mine below Northern Stranglethorn.
Overview
Edit

Note: This is a generic section stub. You can help expand it by clicking
 Edit to the right of the section title.
Payload style gameplay.

Escort mine cars to depot.
Multiple tracks.
First to 1600 resources wins.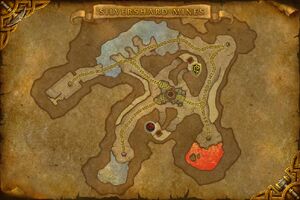 See also
Edit
External links
Edit
WoW Official Game Site (US)
Silvershard Mines

WoW Official Game Site (EU)
Silvershard Mines
News

Wowhead News
Battlegrounds Preview: Temple of Kotmogu and Silvershard Mines
by perculia 2012/10/08 11:27 AM
WoW Insider
New Mists of Pandaria Battlegrounds: Silvershard Mine
by Olivia Grace Jul 31st 2012 at 4:00PM

MMO-Champion
Silvershard Mine and Temple of Kotmogu Preview, Blue Posts, The Daily Blink
by chaud 2012-06-07 06:02 AM
Battlegrounds
Classic
Burning Crusade
Wrath of the Lich King
Cataclysm
Mists of Pandaria
Canceled