Silver Ore is mined from Silver veins. Silver Veins are uncommon, found where Tin Veins are found.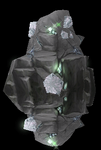 Silver veins may be found in many starting areas where the typical creature level is between about 18 and 30.
Silver veins are most frequently mined in:
Is sold by Rathis Tomber
REDIRECT Template:Map/Coords after finishing the quest  [11] 

Tomber's Supplies

.
Silver Ore as an ingredient
Edit
Silver Ore is smelted into Silver Bars at a forge, requiring a mining skill of 75 or more.
Silver Ore may not be prospected.
External links
Edit
Ad blocker interference detected!
Wikia is a free-to-use site that makes money from advertising. We have a modified experience for viewers using ad blockers

Wikia is not accessible if you've made further modifications. Remove the custom ad blocker rule(s) and the page will load as expected.