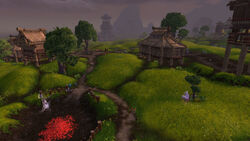 The Silken Fields (orig. The Silkmasters)[63.1, 57.5] is an ancient silk-producing village found southeast of Halfhill in the Valley of the Four Winds. They acquire their silk from a variety of sources, including spiders, silkworms, and silkmoths. It appears that some of them have mutated, however, as Journeyman Chu erred in his efforts to find a more productive way to make silk.
Tailors go to this place to create [Imperial Silk].
Inhabitants
Edit
Quest givers/enders
Merchants
NPCs
Mobs
Patch changes
Edit
External links
Edit
Ad blocker interference detected!
Wikia is a free-to-use site that makes money from advertising. We have a modified experience for viewers using ad blockers

Wikia is not accessible if you've made further modifications. Remove the custom ad blocker rule(s) and the page will load as expected.