Not to be confused with Siegesmith Bombs.

Siegesmith Bomb

"Unstable and dripping with Scourge ichor."
Siegesmith Bombs can be found in the area below Naxxramas in Dragonblight. They also drop from Scourge Siegesmith in the same area.
As a quest objective
Edit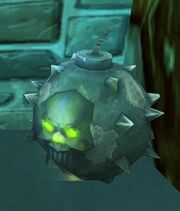 This item is an objective for the quest

 [72] Stealing from the Siegesmiths.
External links
Edit