For the Alterac Valley achievement see The Sickly Gazelle.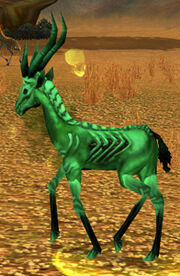 Sickly Gazelles are small, hooved, level 3 critters native to the Barrens. These gazelles have become poisoned by the corrupted waters of Dreadmist Peak and require the aid of a Curative Animal Salve to restore them to normal.
Sickly Gazelles are skinnable.
Patch changes
Edit
Patch 1.6.0

(12-Jul-2005): Sickly Gazelles now have a sickly look to them.

External links
Edit
Ad blocker interference detected!
Wikia is a free-to-use site that makes money from advertising. We have a modified experience for viewers using ad blockers

Wikia is not accessible if you've made further modifications. Remove the custom ad blocker rule(s) and the page will load as expected.