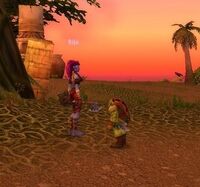 Shrink is a power only usable by NPC's with the exception of a trinket created by those with the engineering profession called

 [Gnomish Shrink Ray] and the quest item,

 [Zorbin's Ultra-Shrinker]. It is seen as early as level 10 being used by
 Zalazane and as late as level 70 being used in the Mechanar. Though the spell differs with each NPC who uses it, it usually involves shrinking the players' in-game character, and reducing his/her attack power.
Gnomes are trying to squelch the rumor that the
 [World Enlarger] shrinks the user rather than making everything else larger.
Ad blocker interference detected!
Wikia is a free-to-use site that makes money from advertising. We have a modified experience for viewers using ad blockers

Wikia is not accessible if you've made further modifications. Remove the custom ad blocker rule(s) and the page will load as expected.